International | Vaulting | Dressage | Training & Instruction
DeWolff Vaulting
 DeWolff Vaulting is an international training and trading stable specialized in training horses within the vaulting branch of horse sports.  Our vaultingstable is based at a magnificent private equestrian centre in Wapse(Dr.) in the Netherlands.
Join Vaulting academy
Instruction
Nienke is an ORUN-4 licensed instructor. She gives dressage-, vaulting and lunging instruction.
Competitions
DWV is a high-level sportstable.  We have many horses available for competitions, therefore we have lease-spots available.
ONline education
We provide online courses about ridersfitness, lunging and vaultingtraining. For more information: 
Clinics
Nienke gives many lunging clinics abroad. If you are interested in a clinic, you can always contact us to discuss the possibilities, since it is always a bit of custom work!
Getting Involved
About DWV
DWV has started to exist since June 2016 somewhat unexpectedly. Nienke was training in vaulting and was giving clinics as well as being a broker for horse trades. At some point she had to register herself at the Chamber of Commerce and think up a name, which simply became "DeWolff Vaultinghorses".

It used to be a hobby of just a few hours a week, but has since grown to be a renowned international company that is globally known for its expertise within the vaulting sport. Customers and students from around the world come to ride, test or buy horses, which are being sold to customers within Europe but also increasingly to countries such as the United States or Mexico for example.
At DWV we focus on training our horses to be used for vaulting, either for regular teams that wish to compete as well as for top athletes. Additionally, DWV assists customers with the purchasing and selling of horse and can provide a broker service.
For a number of vaulters, DWV has become a home base to practise the sport. We give vaulting lessons to beginners and to international vaulters, where foreign students have the possibility to stay in our appartment next to the stables.
We also organize clinics for lunging and vaulting and we give advice about horse management and training young vaulting horses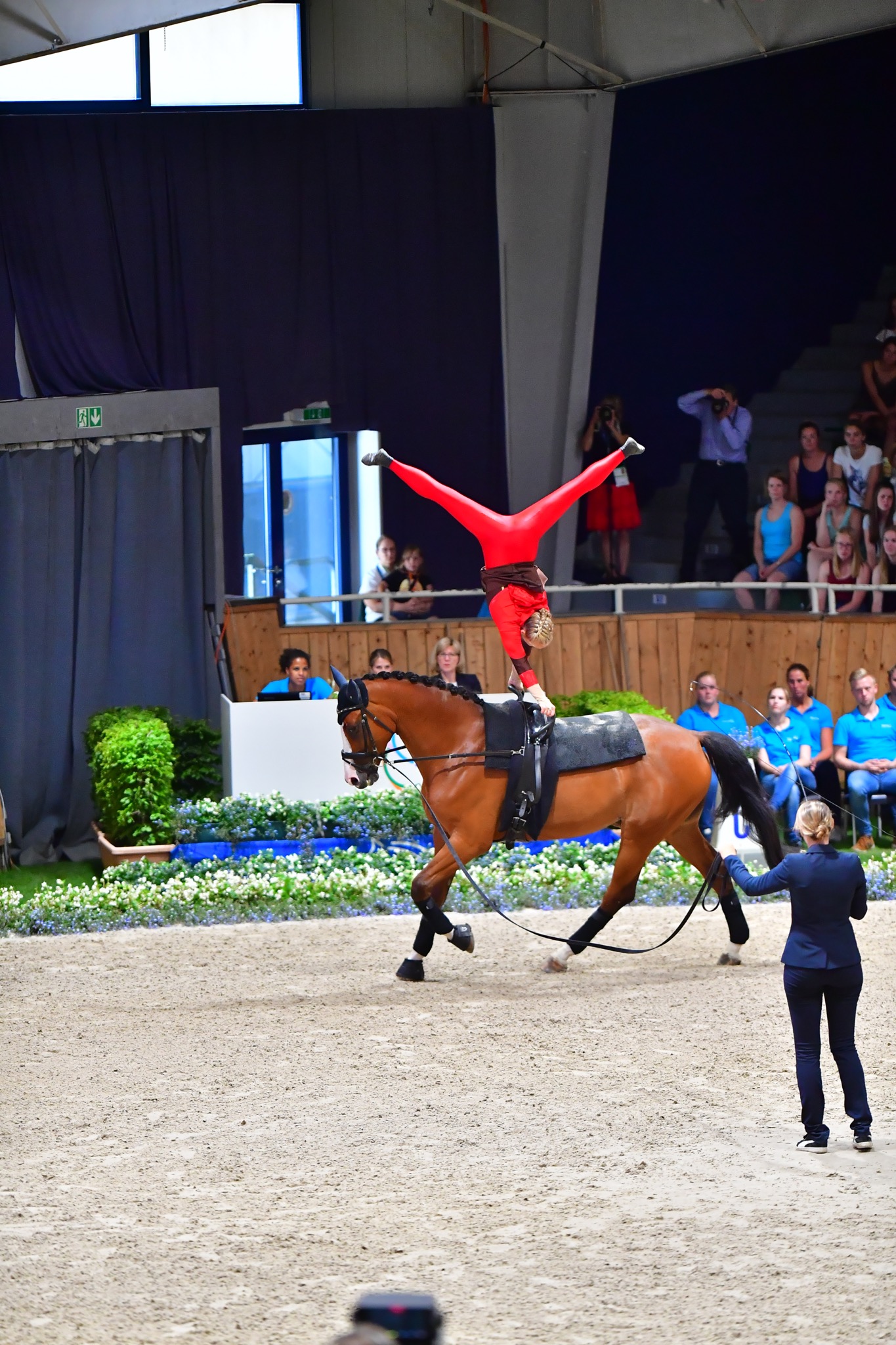 Our training & instruction possibilities
Classes
Vaultingclasses for all ages and levels. All our instructors are licensed.
For riders we have the possibility to work on their posture and seat during our lessons at the lungeline, or combined with coaching during riding. 
For riders (18+) we offer Pilates on a horse, to work on bodyawareness, strenght, balance and just have some fun!